By Jeff Waite on Apr 22, 2022 3:00:00 PM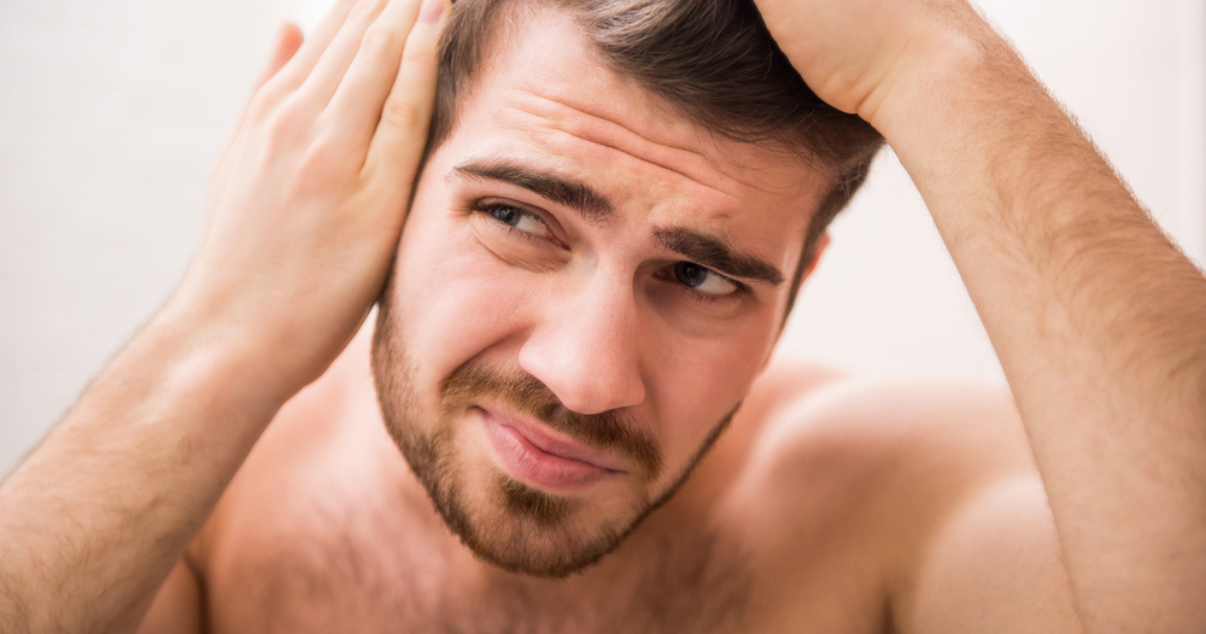 We all experience hair loss at some point in our life, it's part of being human. As we get older, we begin to notice the amount of hair we are losing is increasing and, unlike in our youth, it doesn't grow back, or at least not at the same rate.
Men tend to experience more severe and extensive balding than women, which is why we see it on men more often. It can even start to happen to men in their early twenties, giving them a shock to their system and a knock on their confidence. Unfortunately, despite it being a natural and common occurrence, hair loss often takes a toll on men emotionally and psychologically, particularly when they're young and in their 'prime'.
Read on to learn more about men's hair loss, how it may affect them, and the best way to solve it.
Why do men lose their hair?
The vast majority of men experience male baldness gradually, as their hair thins over time. The most common cause is a hereditary condition called androgenetic alopecia, also referred to as male pattern baldness. Men who have a higher genetic sensitivity to dihydrotestosterone (DHT), a byproduct of testosterone, will be more affected by hair loss. This is because hair follicles that are sensitive to DHT shrink over time and gradually become thinner, weaker, and take longer to grow back. Eventually, the follicles get so small that no hair grows back at all.
Male pattern baldness follows two predictable patterns: the horseshoe, with hair above your ears that circles around the lower back of your head; or the receding hairline. According to the American Hair Loss Association, an average of 25% of men begin the hair loss process before the age of 21, with 66% having experienced some degree of hair loss before the age of 35.
Another type of hair loss is alopecia areata or spot baldness. This is a type of autoimmune disease, which means your body attacks itself and your hair starts to fall out in round patches. Other men experience what is known as scarring alopecia. A rare disease that destroys your hair follicles and forms scar tissue in its place. Not to mention all the other possible causes for baldness, like thyroid problems, stress, scalp infections, chemo treatments, and more.
As soon as you start noticing a change in the density of your hair, don't hesitate to get yourself to the doctors so they can quickly diagnose the cause of the problem and recommend the best treatment.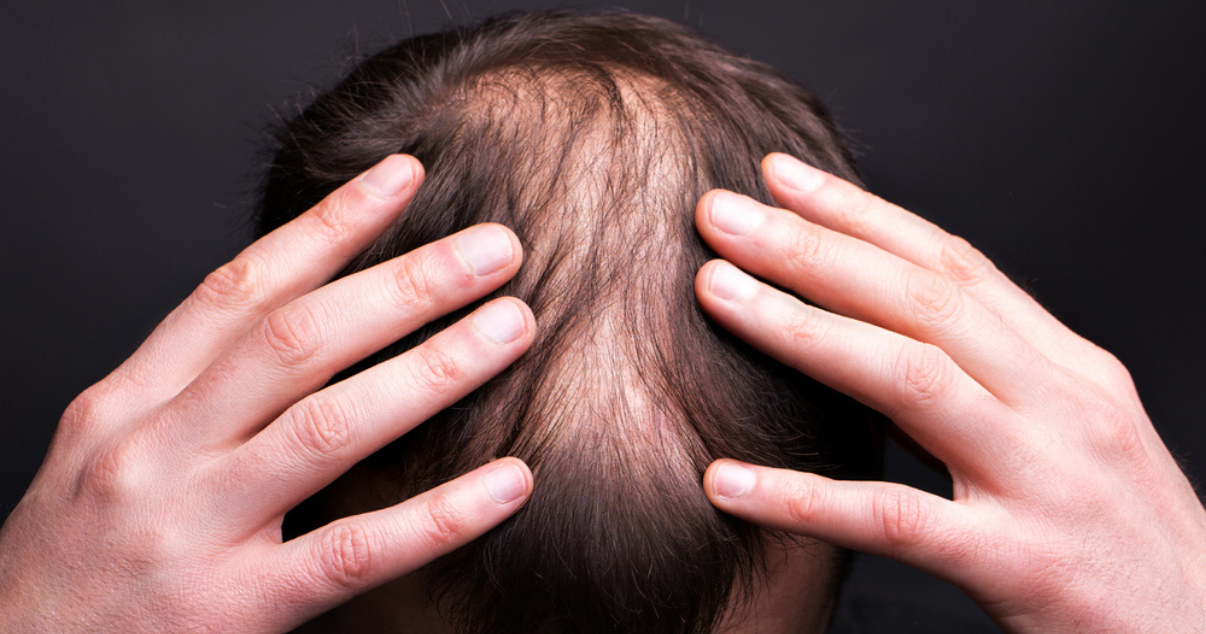 How does hair loss affect men?
Thick hair has long been considered a symbol of masculinity, vitality, and attractiveness. It's no surprise that hair loss causes damage to the emotional and psychological well-being of men, particularly when they are faced with it at a young age. Young men frequently see hair loss as a sign of aging and debility, resulting in lowered self-esteem, decreased confidence, depression, stress, anxiety, and overall lower performance at work, school, and elsewhere.
Sound familiar? We're here to help get you out of that rut. Are you ready?

What can I do about it?
Luckily, there are many solutions for men suffering from hair loss and baldness. But first, let's get rid of that negative attitude.
Repeat after me: "I am not my hair or my hair loss. I am more than that. I am whole with or without hair. My situation does not define me."
Good job! Now you've adopted a better outlook on the matter, it's time to take action.
When we talk about a solution, we're not talking about a pathetic comb-over disguise, nor are we promoting the long, painful, risky, and expensive option of a hair transplant. Rather, we're proposing a fast and effective solution that's pain-free, surgery-free, cost-effective, and (almost) instant… Namely, a hair replacement system.

Tell me more…
Anyone who wears a wig will tell you, there's no better tool than a hair replacement system for developing an identity you feel comfortable with, and restoring, or boosting your self-confidence. Hairpieces for men can only positively impact your daily life. Sure, it may take some getting used to at first, but once you've got the knack of it it'll become so much a part of your routine that you'll be able to do it in your sleep.
At work, on the football pitch, in the pool, on the beach… There are no limits to a confidence-boosting hair system, and you can expect to see an all-round improvement in your performance; you'd be surprised what a bit of self-esteem can do! Still need convincing? Here are some more reasons why using a hair replacement system will be the best decision you'll make in 2022:
Hair systems are non-surgical. They don't require undergoing risky and painful surgery procedures, unlike hair transplants

.
Hairpieces are not permanent. While acquiring a men's wig will be life-changing, it is not a life-long commitment. Though we doubt you'll look back once you start to wear a wig, a hairpiece gives you the flexibility to change your mind, or look, at any time.
Wigs are an (almost) instant fix! We say almost because the only delay is in the time between placing your order and it arriving on your doorstep! You can have your pre-made stock hair system within only 7 days of ordering or wait up to 7 weeks for a custom wig

.
Hair replacement systems are accessible. There is something out there for every budget, and even the highest quality custom hair system won't leave a dent in your bank balance - or at least when buying through a direct distributor, like Advent Hair

,

as opposed to a hair studio!
Custom hair systems give you full control over your look. The beauty of a custom wig is the ability to personalize it to perfection, for a natural and undetectable hairpiece. You can pick and choose from the numerous hairstyles, hair types, color tones, textures, highlights, gray percentage, density, base and hairline material, and much more.
Hair systems are long-lasting. With the right

wig care and maintenance

,

hairpieces can last years and require minimal adjustments to your daily routine.
A hair loss solution from the comfort of your home. We understand that walking into a wig shop can feel humiliating and off-putting, that's why we offer you the possibility to do everything from the comfort and privacy of your home. From getting expert advice to order, and even fixing and styling your hairpiece into place, you'll barely need to lift a finger!
You can trust Advent Hair. With over 20 years of personal experience and extensive knowledge of the industry, high-quality products, comprehensive 24/7 customer care service, and reduced costs, you're in safe hands. It's time to beat men's hair loss. We look forward to chatting with you and helping you become the best, most confident, and handsome version of yourself!