By Jeff Waite on Jan 18, 2020 7:49:09 AM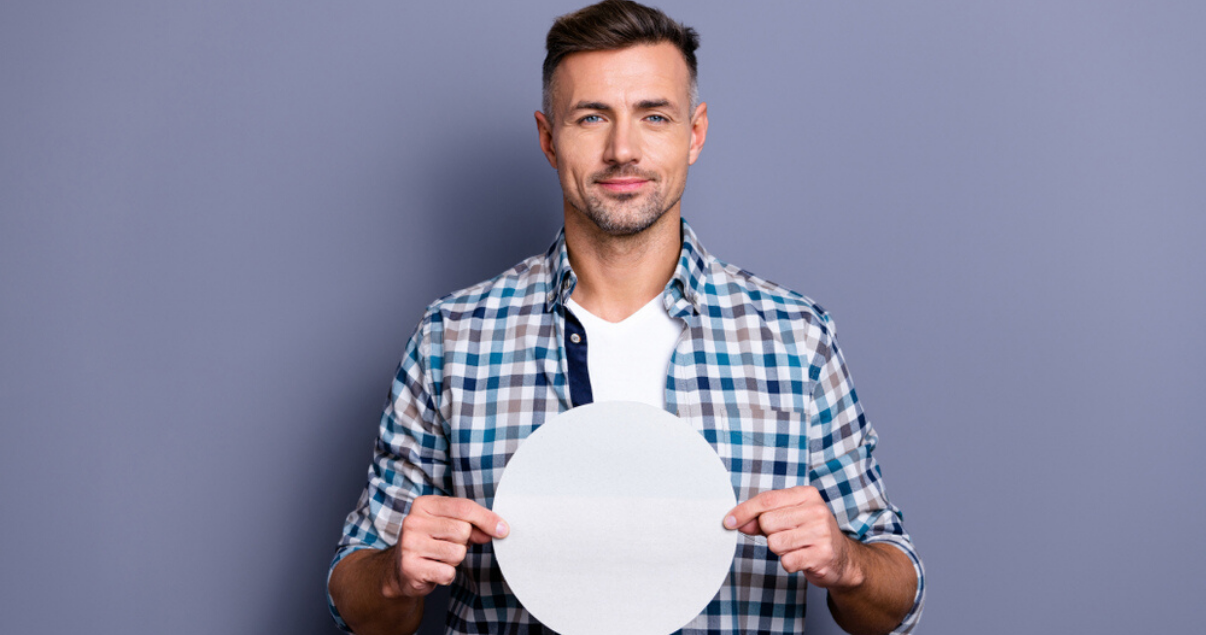 You've made the decision that it's time to take control and order your very own hair system! The first thing to consider, whenever making any choices about hair cuts or styles is the shape of your face. Determining your face shape isn't rocket science, but it's the secret behind choosing the best hairpiece style for you!
Here we've broken down the method to find out which face shape you have. We also highlight which hair systems are perfect for your profile and which hairpiece styles you should avoid.
How to find your Face Shape:
You can choose any of the three different methods to find the shape of your face for a hair system that fits you perfectly.
The Mirror Method: First, pull your hair backward, away from your face. Next, look into the mirror and notice which is the fullest part of your face. It could be your forehead, cheekbones, or even your jaw. After that, decide whether the shape of your chin is rounded or pointed. This will help you choose the face shape category you fall into.
The Tracing Method: Take a picture of yourself face-on. Print the digital photo and trace the outline of the perimeter of your face. Observe the shape you've drawn and to see which shape listed below it matches most.
The Measuring Method: The most precise method would be to use a ruler or measuring tape to measure across the widest points of your cheekbones, jawline, and forehead. Then measure the distance from the start of your hairline to the bottom of your chin. Compare your results with the descriptions and characteristics of the seven most common face shapes listed below to find yours.
If you still can't tell which face shape you have, you can always get a second opinion from a friend or family member that will give you their honest and objective feedback.
What are the most common face structures? Here is a short description of each one:
Oblong
This face type is longer than wide, usually accompanied by a long and narrow bone structure. Individuals with oblong face shapes may have narrow chins, high foreheads, and long, thin necks.
Celebrities with this face shape include Meryl Streep, Liv Tyler, Kiefer Sutherland, and Adam Levine.
Suggestions:
The appropriate hair system style for this face shape can help to create the illusion of a fuller, oval face shape. Hair system styles that are short or medium length can help to make your face look shorter, and the addition of layers will help soften the appearance of straight lines of your profile for a softer look. A fringe or soft wispy bangs across the forehead can also help to shorten the length of your face.
What to Avoid:
Long styles will make your face look longer, including long hair past the shoulders — particularly if it is very straight. It's also best to avoid center parts in your hair system as they will only make your face seem longer.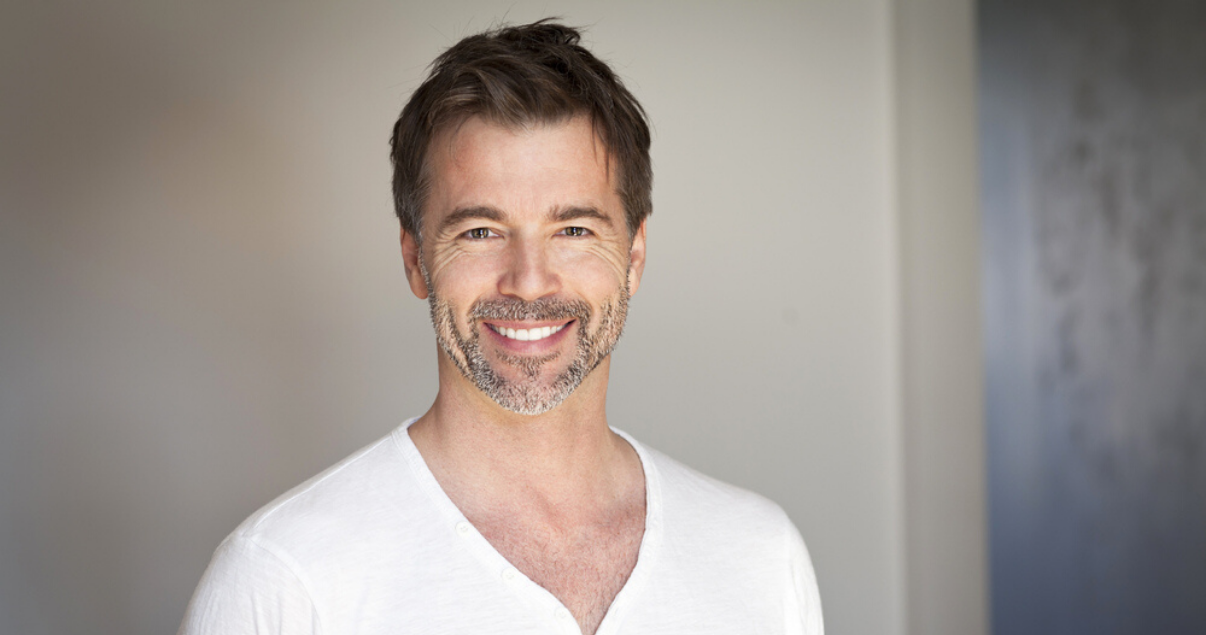 Pear
A pear-shaped face means that the widest points of your jaw are slightly wider than your hairline. This means that your forehead is a bit smaller than your cheeks and about the same size as your chin.
Celebrities with this face shape include Raven Symone and Kelly Osbourne, and Nick Lachey.
Suggestions:
Use styles that add volume from your eyes and the crown of your head to create width at your forehead. A classic shag hairstyle looks terrific because it lets you comb your hair close to your head and on the sides as well. Both women and men with this face shape should part their hair system to the side to help create a longer profile shape.
What to Avoid:
Refrain from wearing center parts and long styles that emphasize the jawline and make your face look fuller.
Heart
People with heart-shaped faces have a narrow chin and a broad forehead, their face will appear wider at the temples and hairline with a narrow and delicate chin.
Celebrities with this face shape include Jeniffer Love Hewitt, Scarlet Johanson, Joe Jonas, and Joseph Gordon-Levitt.
Suggestions:
The ideal hair system for this face shape will disguise the width of the forehead by adding volume to the chin and bringing hair onto the forehead. Chin length or longer styles are recommended, as well as side-parted hairpiece styles that sweep forward with layers around the upper face and gently wispy bangs. You can also wear shorter hair system styles as long as they have plenty of volume and texture to maintain the balance between your cheekbones and chin.
What to Avoid:
Avoid short hair, choppy layers, and too much weight at the crown level, since these styles give the appearance of a longer and narrower chin.
Diamond
Diamond face shapes have a narrow chin, narrow forehead, and wider cheekbones. Your forehead and jawline are approximately equal in width, the fullest part being your cheeks. Your shape is a cross between a heart and an oval.
Celebrities with this face shape include Megan Fox, Jennifer Lopez, and Robert Pattinson.
Suggestions:
Pretty much everything works with this well-balanced face shape. Popular hair system styles for diamond shapes are those that reduce width at the sides of the hairpiece to add fullness at the chin line. For women, bob hairstyles work particularly well.
What to Avoid:
There is not much to avoid if you have a diamond face shape. Try not to use hair system styles that cover up the great features of your face!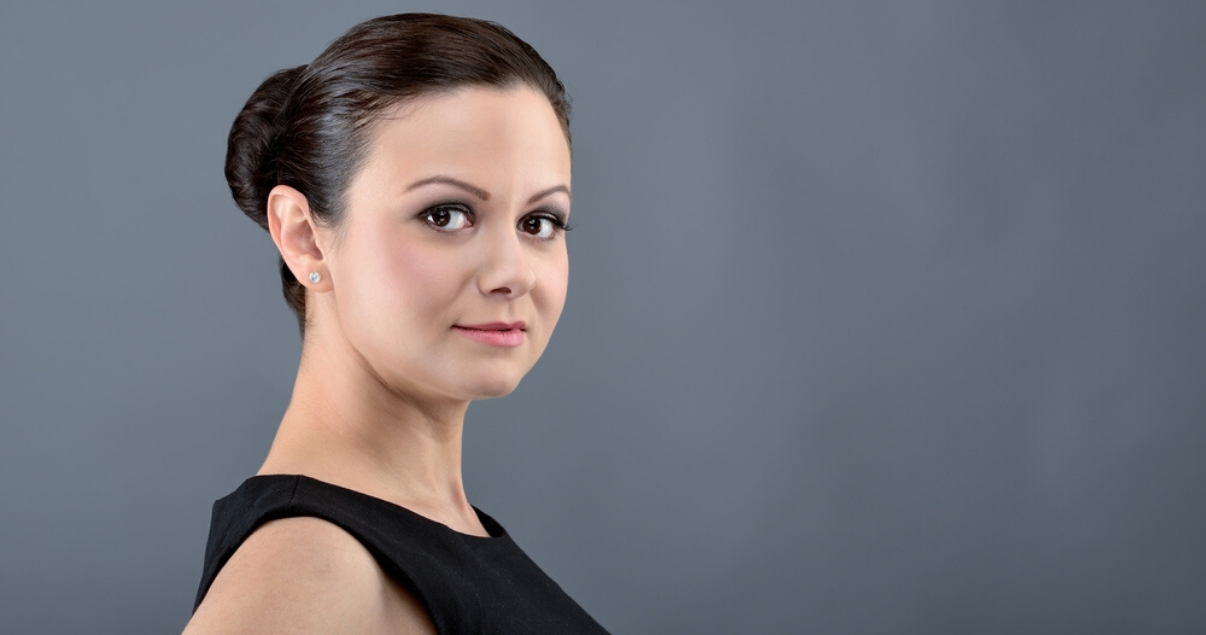 Square
Square face shapes have a broad hairline and jaw, with the face about as wide as it is long.
Celebrities with this face shape include David Beckham, Demi Moore, and Sandra Bullock.
Suggestions:
Short to medium-length hair system styles are best, especially for wavy or curly hair. Wispy bangs, off-center parts, and height at the crown can create the illusion of facial length and soften angular facial features.
What to Avoid:
Avoid one-length hairstyles that don't create movement around your face. Stay away from straight bangs with sharp lines, center parts, or any other style that is long and straight.
Round
Round faces are characterized by a broad hairline and fullness below the cheekbones, with the face approximately twice as wide as it is long. Rounded chins and hairlines are common, and some people that have a round face shape will appear to have a shorter neck.
Celebrities with this face shape include Drew Berrymore, Mila Kunis, Jack Black, and Zac Effron.
Suggestions:
Round faces look great with a geometric or linear hair system style that adds the appearance of height. Try using short hairpiece styles that have a swept-back direction or those that are longer than chin length. The idea is to make your face appear longer and narrower.
What to Avoid:
Avoid having chin-length hair with rounded lines that reflect the face's circular shape. Rounded styles that end at the chin will add fullness to the broadest part of your face.
Oval
As its name implies, the oval-shaped face is longer than wide and usually has a jaw that is narrower than the cheekbones. This face type usually has a proportional forehead, cheekbones, jawline, and chin.
Celebrities with this face shape include Jude Law, Will Smith, Julia Roberts, and Cindy Crawford.
Suggestions:
Given the balanced nature of this face shape, any hair system style, length, or texture will suit you perfectly! Try using hairpiece styles that are off the face to accentuate the shape of your face.
What to Avoid:
Just stay away from hair system styles with heavy bangs or hairpieces that are combed forward, since this can add weight to your face.
When searching for the best style hair system, you should consider your face shape to find the best look for you. Once you've determined what your face shape is, you can purchase the right custom or stock factory direct hair system online for you and your face type.
Remember that we are here to help you pick the best hair system for you!
Before considering which hairpiece fits you perfectly, and what color hairpiece goes best with your complexion, it is vital that you know what your face shape is!
Got any other questions for us? Feel free to give us a call at our toll-free number.
We're more than happy to help you with any questions or concerns that you may have!
Call us toll-free
1-800-756-8585