By Jeff Waite on Jul 9, 2022 3:00:00 AM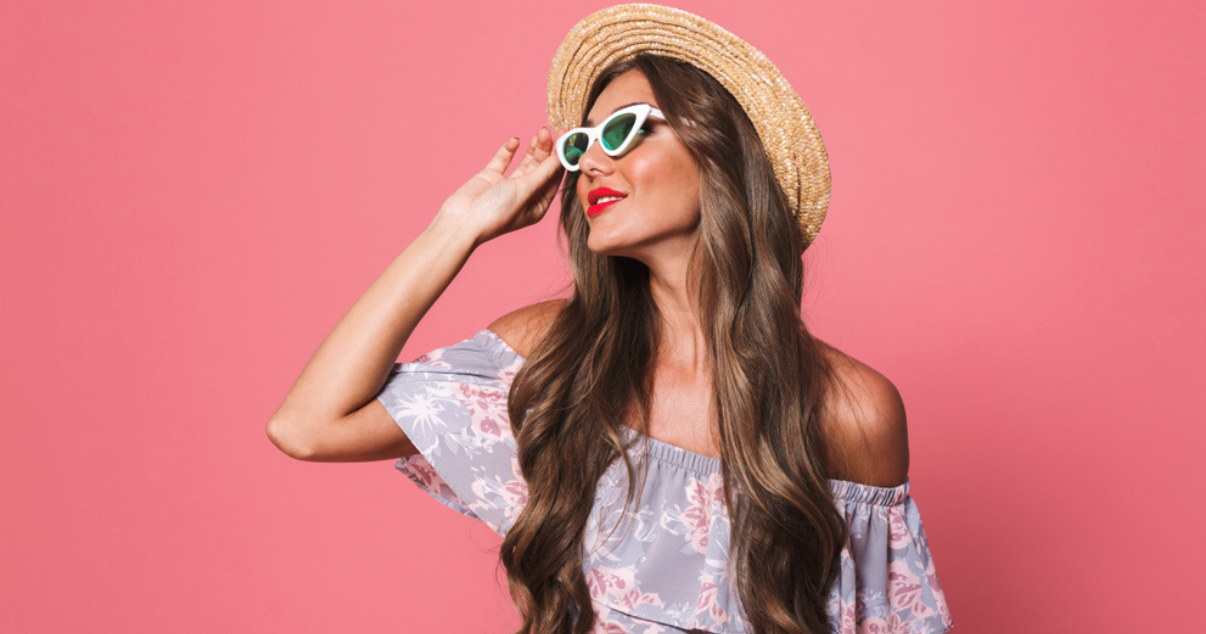 The sweltering heat of summer is imminent and its ushering in a range of trendy short haircuts and refreshing updos. At this time of year, the greatest concern amongst wig wearers is feeling cool and preventing the discomfort that comes with a hot, sweaty scalp and a damp wig. The good news is, this summer it's all about embracing the short, au-naturel look. Heat styling tools and polished hairstyles have been ruled out in favor of a natural air-dry, just-off-the-beach look. With that in mind, we've gathered a selection of cute summer hairstyles for you to try so you can refresh your look with a style that not only makes you look cool but feel it too.
Short Just-Off-The-Beach Waves
Keep your hair off your neck with a short wig that allows refreshing breezes to circulate and instantly cool you down. You could go for a classic jaw line or shoulder-length bob or, if you're feeling daring, why not test out the new 'muxie' trend (a cross between a mullet and pixie cut). You can add volume and create that desirable effortless beach-side look using a simple backcombing technique. This works for natural human hair wigs and synthetic wigs, though if it's time for a new wig, there are plenty of pre-styled synthetic hair systems to choose from.
Tool kit:

And… Action!
Group your hair strands into sections, and lift one section up at a time so that the ends are above the roots.

Using the appropriate

brush

for your hair system type, start to gently brush backward, starting from 3-4 inches away from the scalp and brushing towards the roots. Avoid backcombing from the very ends, and only brush the underneath section of the strands. Secure your tousled and voluminous hairdo in place with a few spritzes of hairspray.

Messy Low Bun
If you're not ready for the chop, don't fret. There are an endless array of cool summer hairstyles that will keep your hair back off your face and neck. A messy low bun is a great long wig alternative to recreating that effortless, casual coastal look. Buns are generally preferable over ponytails because they don't swish around and pick up the sweat from the back of your neck. Dress up the bun by tying a colorful headscarf around the base of the bun and let it hang down either side. Or, top off the summer holiday vibe with a stylish wide-brim hat. As well as looking fashionable, it is also an excellent way to protect your hair system from the beating sun rays.
Tool kit:
Long to medium length hairpiece; loose waves make it even better!
Bobby pins
Elastic band x2
And… Action!
Organize your parting. Then, take all of your hair and pull it into a low ponytail, securing it with an elastic band.

Pull out pieces around your face, from your ears, and near your parting.

Using your index finger and thumb, gently pull at the crown of your head to add more volume.

Take another elastic band and repeat the same ponytail, but on the second time through, create a little bun, leaving the ends loose.

Take the tail and wrap it around the elastic band, tucking it into the other side of the elastic.

Finally, secure the bun with bobby pins and a spritz of hairspray to prevent flyaways!

Cute Ponytail Braid
The ponytail braid combines two hairstyle classics that can easily be achieved with all long wigs. The look is simple and easy to do and it is a stylish way to keep your hair firmly in place all day. Up your summer hair game by threading a silky scarf through the braid. And, why not continue the intentionally ruffled look with the braid too?
Tool kit:
Long to medium length hairpiece; loose waves make it even better!

Elastic band x2

Headscarf (optional)
And… Action:
Gather all your hair into a high ponytail and secure it with an elastic.

If you want to add in a scarf, tie it around the elastic and then tie it around the secured ponytail.

Separate the three strands for the braid and add the scarf to one of the strands.

Braid the hair and secure with an elastic at the bottom.

Give it an intentionally messy and tousled finish by pulling a few strands of hair out of the braid. For synthetic wigs, take a brush and slowly and gently backcomb parts of the braid to get rid of that synthetic shine and make your hair system look as natural as possible.

Finally, finish it off with a spritz of hairspray to keep it all in place.




Tips for Summer Hairstyles
Keep up your wig care routine! Particularly after using lots of product and hairspray for styling, it's important to wash it all out afterward with a gentle shampoo. Then, replenish the moisture using a nourishing conditioner. For a great color-safe conditioner for human hair, rich with antioxidants that counteract sun damage, try Remy Soft BlueMAX Moisture Lab Recovery Cream followed by Remy Soft Blue Max Protective Sealer to coat and seal the hair shaft, eliminating tangling, locking in moisture, and protecting the hair against unwanted damage. For synthetic hair systems, Velvasil

is a silicone-based, color-safe leave-in conditioner with sunscreen that protects the fibers with a non-oily, velvety smooth coating.
Only use

styling products

specifically made for your hairpiece to help ensure the longevity of your wig.

Synthetic and natural human hair wigs have different qualities and therefore different needs, so always check the product label to make sure it's suitable for your hair type before purchasing.


Avoid heated styling tools. An absolute no-go for synthetic hair systems, they damage and can even melt the hair strands! The best way to style synthetic hair replacement systems is with lukewarm water to wet set curls or straighten hair. Whilst straighteners, curlers, and hair dryers can be used with natural human hair wigs, we only recommend doing so very occasionally and with medium heat, to prevent the hair from drying out too much. Take extra care if you wear a lace hair system

or a

thin skin hair system

as these systems tend to be more fragile.
New Season, New Hairpiece?
If you're ready to fashion a new wig this summer, we have a brilliant collection for you to choose from. Just get in touch with one of our hair experts to help you find the best hair replacement system for you. The efficient, one-to-one, personalized customer service we offer is just one of the many benefits of buying through Advent Hair. Any questions and concerns regarding our products are easily and swiftly addressed with a hair-wearing expert, via phone or email, according to your preference. You can even speak to Jeff, the founder of Advent Hair, who will walk you through the hair system buying process himself. Our 24-hour active support system is on hand to help you, both before and after you've received it, or even once you've started wearing your wig. And, if you are not 100% satisfied with your hairpiece and want to return the product, we offer a good refund policy, with no questions asked.