By Jeff Waite on Jul 27, 2012 4:37:36 PM
There are many different reasons people experience hair loss, Advent Hair is always here to lend you a helping hand with hair replacement systems, wigs, toupees and more. Our hair loss options are great for women or men, but what about children who are experiencing hair loss due to a disease like cancer? Don't worry; there are plenty of organizations that collect hair donations that are turned into wigs for these children.
Wigs for Kids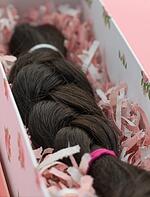 About the Program: For over 30 years, this nonprofit organization has been providing children who are suffering from hair loss, due to medical issues, with cost-free hair replacement systems.
How to Donate: There are three ways to donate to Wigs for Kids. You can provide a one time donation, sponsor a child, or donate hair. The one time donation can be monetary or you can donate a much needed item from the wish list of supplies that is listed on the organizations website.
Learn more: WigsForKids.com
Angel Hair Foundation
About the Program: Founded in 2008, the Angel Hair Foundation is committed to helping children regain their positive self image after experiencing hair loss due to a medical condition. This nonprofit organization specially reaches out to help kids who are living in Oregon.
Donation Requirements: In order to donate, hair must be a minimum of 12 inches in length, and hair must be braided or in a pony tail with a pony tail holder securing each end.
Learn more: AngelHairFoundation.org
Have you donated your hair to Wigs for Kids or the Angel Hair Foundation? If so, Advent Hair would like to thank you for your thoughtful contribution to combating hair loss. You can learn more about hair loss and hair replacement systems at AdventHair.com.