By Jeff Waite on Jun 29, 2012 11:51:57 AM
Customizing a men's hair piece can be difficult. Especially if you're not sure which color you'd like your hair piece to be. When you choose custom men's hair pieces from AdventHair.com you can relax and know that you're choosing a quality hair piece, completely designed by you, by you. Our custom hair pieces for men include natural hair colors, including shades of black, brown, blond, etc. Still unsure of which color, texture and other options to choose, check out these helpful tips.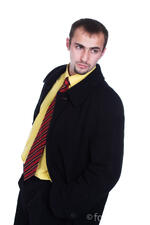 If you still have some of your original hair, and are buying a hair piece to blend with your natural hair, make sure you choose a hair color shade that's close to your natural hair color. Don't stray more than two shades from your original hair color.

Younger men are looking to hide grey hair, but if you're in the 60+ age group you should add some grey to your hair piece, so it looks natural.

Keep your natural hair short, as short hair minimizes the appearance of balding, and sometimes it can be easier to purchase a custom hair piece.
Still have a few questions? There's no need to fret, as a specialist from AdventHair.com will call you before we order your custom hair piece. We'll verify all of the details, help you make decisions, and answer any questions or concerns you may have. You can learn more about our custom hair systems for men at AdventHair.com.