By Jeff Waite on Aug 27, 2010 11:47:53 AM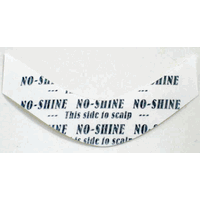 We've talked a lot on here about how to avoid embarrassing situations with your hair. (Remember our post about Pat Boone?) Well, Advent Hair is proud to offer some of the highest quality hair adhesives around. And we're excited to carry Walker No-Shine Bonding Tape.

Imagine how much better your life could be with this amazing product. Good for up to a 3 week hold, Walker No-Shine Bonding Tape will leave you feeling confident and attractive. You won't have to worry about a thing. The best part about this product, though, has to be its dull finish. That means that you don't have to think about the bonding tape leaving a strange shine on your hairline. It will blend with your skin beautifully.

Advent Hair offers this great bonding tape in five different contours. So no matter what you need your hairline to look like, you'll find the solution here. And with 36 pieces per package, you'll be stocked up for a while! This is a great choice for attaching your lace bases or thin skin bases. (We just want to make sure that you're careful when you remove the tape from your skin.)

Check out our supply of Walker No-Shine Bonding Tape. You'll be glad you did!