By Jeff Waite on Aug 4, 2010 10:58:51 AM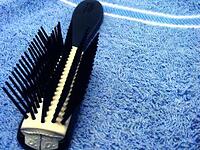 Since it's Hair Loss Awareness Month, maybe you should go out and be a hair ambassador! We've told you what to say to people that might give you a hard time about wearing hair in our post about Practical Musings. But do some of your non-hair-wearing friends think that they'll never have the need for the products at Advent Hair? August is the month for you to tell them that they could be wrong.

Hair loss affects 80 million American men and women. There are just over 300 million people in the United States. That's about 25% of Americans affected by hair loss. Your friends aren't all out of the woods. Disease, genetic predisposition, and poor cosmetic grooming can all cause hair loss.

Dandruff contributes to hair loss. It's caused by a fungus called malazzesia globosa. The fungus if found floating around in the air, and that's why dandruff can't be cured. (But it can be treated.) The scalp gets scaly, and that can lead to hair loss. From only 90 minutes of scratching, it is possible to remove the cuticle around the hair shaft. This will weaken the shaft and leave it damaged— and prone to hair loss.

Coloring your hair too much can also lead to hair loss. As hair grays, it also grows slower. That means that if you color your gray hair on a regular basis, the same bit of hair is being treated over and over again. This is very damaging, and can cause the hair to fall out. We mentioned using our hair systems as a way to cover gray hair, so why not suggest that to your friends?

Have a good Hair Loss Awareness Month! Spread the word.